ABM Postcard Marketing For Offline and Online Financial Success

AMERICAN BILL MONEY REVIEW
NEW American Bill Money Trial Membership Only $25
Find Out How You Can Achieve Financial Success Offline or Online With ABM Postcard Marketing

American Bill Money King Of Residual Cash With No Internet Skills Required
BUT! If your an Internet Marketer ABM gets a huge response online as very few people are marketing it online. My team has the system to succeed online or offline.

American Bill Money has been in business since 2003, American Bill Money is 3 tier affiliate program that offers the Deluxe Package for $125 a month. What you are actually buying is
Direct Mail Business Kit, ($125 monthly) (Out of Pocket or Out of Profit)
150 Virtual Sales Reps, (150 Post Cards, 150 ID Stickers & 150 Mailing Labels)
Less than 2 hrs. Month,
Do Your Fair Share Compensation Plan, (Refer 3,5,7 or more New Reps)
Earn $1,000, $4,000 or $10,000+ per Month in Residuals....Wow!)
Get Paid Daily, ($75 Fast Start)
Get Paid Monthly Residuals. ($25 on 3 levels) ($75 "Direct Deluxe" on Personals + $25 levels 2 & 3)
Receive a Free Online Marketing Website System With Me ABM Leaders
You can use the leads to promote your American Bill Money business or any other business, personal or otherwise, as well. ABM guarantees that each name and address on the list is deliverable and if returned, they will have the name replaced on a ratio of 2:1.
Also 150 attractive and full color ABM postcards are provided with your monthly Deluxe Package order. 150 ID stickers bearing your name and ABM number that you can use as materials in promoting ABM. The package also includes the following services:
ABM has the best pay plan available. An affiliate is paid $25 a month for each referral on every recruit on all 3 levels. There are no one or two-ups where you do not get paid. All your direct referrals are called your 1st level. For each of your referrals, you get $75 the very next day and then $25 monthly for each as long as they are active. You get paid weekly on your personal referrals as they pay their membership.

Referrals by your 1st level recruits are your 2nd level, each bringing you additional income of $25 per month. Referrals by your 2nd levelers will be your 3rd level for which you will earn another $25 monthly for each one of them. You will need only one active direct referral for you to earn commissions from levels 2 and 3.

If your looking at American Bill Money as a possible Income Opportunity for yourself, make sure you get the facts ! If you have been struggling to make money online, this is an incredible offline opportunity. On the other hand if you're an online marketer just think what you can do with ABM and our online success system. ABM is a 10 year old Postcard Marketing Silent Giant in the Home Based Business world, members have been generating serious income for years by just mailing out postcards from home. Postcard Marketing Direct mail has proven to be a viable income source for many years.

ABM has been around since 2003 and members have been getting paid on time every time since the very beginning of American Bill Money! <---- Our Free Top Team Free Online Marketing Site

Make sure you call and listen to all 6 of the recorded messages that completely explains everything by calling 1-800-808-6794. Also please visit my website at www.abmwiz.com This is our American Bill Money Top Team online website system. You get our system free when joining me and our team. After you've listened to all the messages and or reviewed my website. (Tell them you were referred by ABM customer #3256, Jack Cupp.)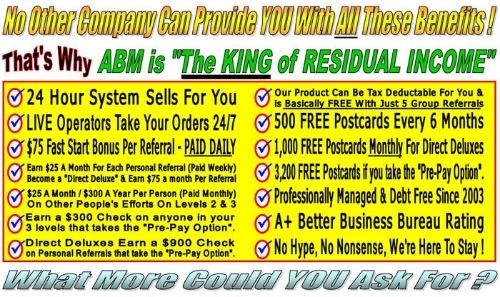 If your ready to get started you may signup online or with our Live Operators who are available 24/7 by phone at (757) 455-3551, the operators Do Not answer questions, they only take New orders from people ready to get started with ABM. Use my ID 3256 Join Our American Bill Money Postcard Team.

If you have any questions about American Bill Money you can call them direct at 757-638-8731 and they will be glad to answer any questions that you may have. After joining fill out the form to receive your ABM Top Team FREE MARKETING WEBSITE and system.
Thanks for reading my American Bill Money Review of Postcard Marketing and our online wealth system.

This is my personal website and not an official American Bill Money website. Please fill out the form to see our FREE TOP Team Marketing site.

Demand Full-Time Support - Get It Here With Me
Questions? Call Me 602-419-6289 - I Answer or Call Back in Minutes

I'm Jack Cupp with my Wife Olivia
My hobby is flying and building experimental airplanes.